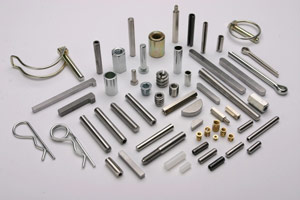 Slotted Spring Pins (Spring Tension Pins)
Slotted Spring Pins consist of a single coil of spring steel (or stainless steel) with an open slot sufficiently wide to enable the pin to reduce in diameter as it is driven in a hole of appropriate size.

As standard, they are normally supplied in the heavy duty form, but a light duty version is also available.

Dowel Pins
Dowels are solid pins, usually precision ground to narrow limits to permit accurate fitting. Precision dowels are traditionally used to hold parts together in a fixed alignment relying on the tightness of fit to stay in place. However, some applications for solid pins require clearance or transition fits on at least one of the components to be fastened.

Cotter Pins
Split Cotter Pins are stocked in diameters 1 to 13mm in mild steel (usually zinc plated), stainless A4 and brass.

Due to the loose fit required for Cotter Pins, the metric range doubles for inch sizes

Retaining Pins (R-Clips)
Retaining Pins, or R-Clips, are stocked in the single coil and double coil design.

The single coil is suitable for most applications and the double coil is for more demanding use.

They are made in zinc plated, spring steel. Some sizes of the single coil type are also available in stainless steel.

Taper Pins
We can supply taper pins to various standards and are also able to quote for completely non-standard dimensions.

Also available LINCH PINS, GROOVED PINS, CLEVIS PINS, SHAFT LOCKING PINS, COILED SPRING PINS, as well as SPECIALS made to order in all materials.