SHEET METAL FASTENERS are a unique range of fasteners and tools designed specifically for the sheet metal industry which utilize SELF-CLINCHING, BROACHING, FLARING, SURFACE MOUNT, or WELD technology to provide strong, reusable, and permanent threads and mounting points in thin sheetmetal or P.C. board materials.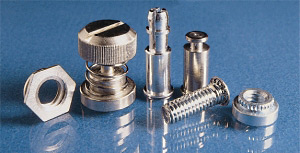 Types include nuts, studs, pins, panel fasteners, standoffs, right angle fasteners and wire management hardware.

Selections include free-running and, self-locking threads, floating threads, concealed head, flush, miniature, non threaded and blind fasteners.

Standard thread forms include METRIC and UNIFIED, and certain product lines are also available in BSW and BA.

Fastener materials include carbon steel, stainless steel and aluminum to satisfy a wide range of applications and sheet materials.